The honeybees for pollination project by Bees for Development Ghana has improved the lives of many cashew farmers in Ghana through increased cashew nut yields and honey and beeswax.
The project benefited cashew farmers in and around Techiman, Nkoranza, Tuobodom, Kintampo, Wechi, Nsawkaw, Offuman, Bono Manso, and others.
Keeping honeybees on cashew farms increases the yield of cashew nuts – by up to 100%. This can make a huge difference to a family's standard of living.
Honeybees thrive on cashew farms – thus giving farmers honey and hive products such as beeswax to sell – as well as a greater harvest of cashew nuts.
In the other three photos below, you can see the process of cashew nut harvesting – from the initial collection of nuts – through the external quality-control evaluation process – to the final packing and loading for export.
Honeybees for pollination, cashew nut yields
On each farm included in Bees for Development Ghana's project, cashew nut yields have greatly increased and farmers are busily gathering cashew nuts and also preparing to apply beekeeping skills learned from the project to harvest, extract and sell honey and beeswax in addition to the cashew nuts.
Read also: First Artificial Intelligence research centre in Africa launched
These new beekeeping skills learnt over the past four years will stay with them for life and enables each household to improve their livelihood and viability of their farms.
Read also: Accra: 100% of palm oils on Dome and Mallam Attah markets are unwholesome — FDA
Honeybees for Pollination
BfD Ghana's Project, Bees for Pollination to Improve Lives in Ghana is helping local families produce more cashews as well as harvests of honey and beeswax.
Keeping honeybees on cashew farms not only pollinates the cashew trees, but bees help farmers diversify from over-reliance on one crop.
Back in 2018, Agya Owusu produced an impressive harvest of beeswax which he sold sell locally. This gave a substantial boost to his household income.
But there are still many families who would like to be part of the project when it has the funds to expand — since the inception of the project. Many cashew farmers were added later to the project.
For example, Mary, who has three sons and a widow, struggles to maintain her family and had seen how other families benefit from keeping honeybees on their farms.
She was anxious to be incorporated into the project and hoped to be able to generate enough extra income so she could send her sons to university or for further training.
Read also: Food security: Egypt plans to cultivate 2 million acres of wheat to compensate for Russia-Ukraine war
Mary was supported by BfD Ghana and has since kept bees in her apiary benefiting from the Bees for Pollination project.
Another cashew farmer who has benefited from the project is Lucy Benewaa, one of the many women in Ghana BfDG has supported to keep bees in their cashew farms to benefit from the pollinating activities of honeybees under the Cashew, Bees and Livelihood project.
Lucy has benefited from keeping honeybees in the last four years — harvesting and selling more cashew nuts in addition to honey and beeswax she gets from keeping honeybees all from the same piece of land.
Read also: Women in beekeeping: Bees for Development's experience
Lucy has put up a four-unit house and has paid for the fees of her children who were in the College of Education and Nursing Training College.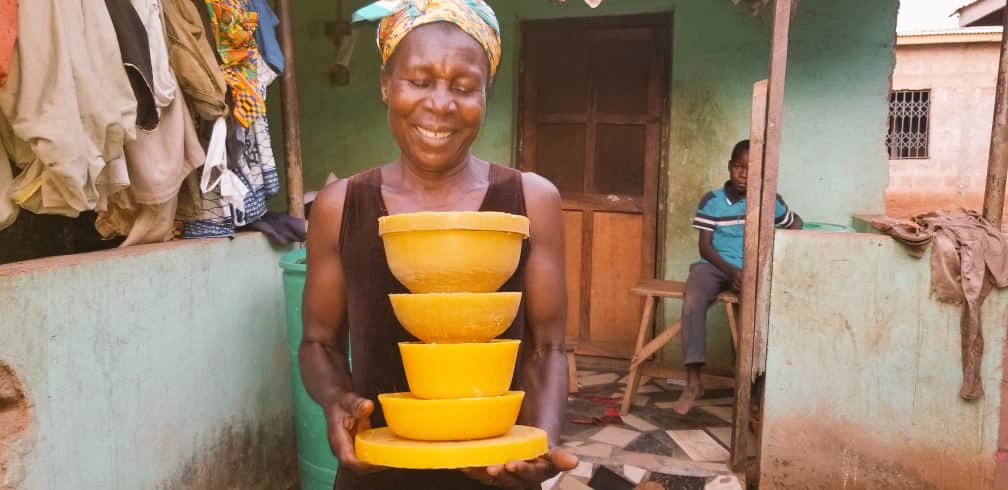 Lydia Aboagyewaa, a cashew farmer in Tuobodom, tells us her son [Stephen] installed the hives in her orchard or farm.
Read also: Frustrated mother spotted publicly delivering son from spirit of stubbornness [Watch]
According to Lydia, she has never seen such a bumper harvest from her farm as she has witnessed this year — attributing that to the pollinating activities of honeybees on the farm.
Lucy calls on fellow cashew growers to consider keeping bees on the cashew farms. These are a few examples of many cashew farmers who have benefited from the project and continue to benefit.