Residents of Losogwa village in Nyahururu Laikipia County of Kenya have been urged to adopt beekeeping for more income to support their families.
A Kenyan agronomist, Mr Joseph Kiarie, made this comment during a meeting with Losogwa village residents.
Mr Kiarie said, "The current Kenyan economy needs us to have multiple sources of income to sustain our livelihoods. Therefore, I urge you to adopt bee farming as a way to supplement your other sources of income. This is because honey has great demand in our country and selling it can bring funds to support our families."
Read also Beekeeping at risk in Kenya due increased investment in farming and use of pesticides
"I also encourage you to at least have a few beehives on your farms as bees do not only produce honey for sale but also act as pollinators which play a critical role in maintaining a healthy, genetically diverse ecosystem of plants and are essential in the pollination of food crops hence food security," advised Kiarie.
He added that beekeeping was easy to start and maintain noting that less was expected from the farmers, except setting up water points around the hives during dry seasons and ensuring that the hives are well stationed.
Read also: Rural women urged to go into beekeeping to alleviate poverty and improve their livelihoods
"Beekeeping is easy to start and maintain. You only require a beehive. For example, a Langstroth hive goes for Sh4, 000 and it yields an average of 35kgs of honey per harvest. Bees are easy to maintain as you will only be required to provide them with water during the extremely dry season," he added.
Watch below a beekeeper with beeswax from his bees
Here is a testimony of our work with cashew growers in the Bono East Region, Ghana. Stephen [in the video] got 120 kg of beeswax and 2.66 tons of liquid honey this year.@BeesForDev pic.twitter.com/SygjIvRYOh

— Bees for development Ghana (@BfDGhana) June 29, 2021
Beekeeping as business
Kenneth Wachira, a farmer within the Igwamiti ward, said he started beekeeping in 2016 to protect his orchard from thieves. He then developed the idea into a business by selling the honey.
This forced him to add nine more hives as he had started with only three, to meet the big demand.
"I kept bees in my orchard to keep thieves away, later on, I started selling the honey and realised that it had a high demand. This pushed me into the honey business and I added 9 more beehives in my farm," said Wachira.
Read also: Celebrating Master Beekeepers' and cashew growers & achievements in Ghana
Wachira added that proceeds from honey cater for all expenses incurred in beekeeping and he is left with handsome profit that boosts his standards of living.
"I sell the honey to homes and also supply it to several supermarkets in Nyahururu town. My customers use it as a spice for sweetening food like chapati and rice, and also as a traditional medicine for treating allergies, colds, and measles in infants," said Wachira.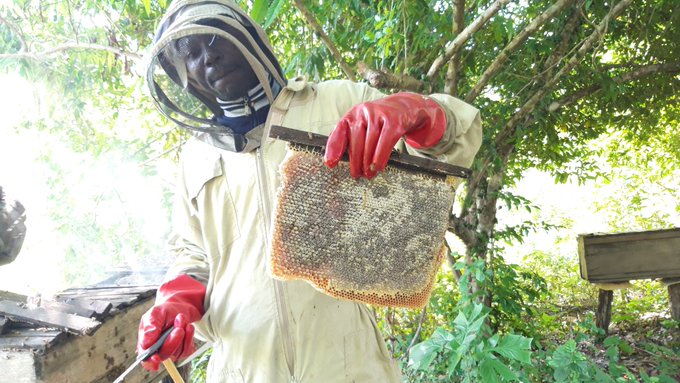 He, however, stated that for beekeepers to obtain maximum profit, they should be in a position to harvest, process, and package the honey themselves as packed honey was more expensive than the unprocessed.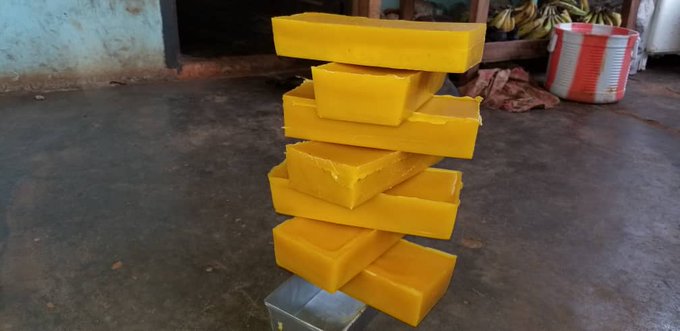 By Kennedy Muchori and Margret Malika