Rural women in Ghana should consider going into beekeeping to alleviate poverty and improve their livelihoods. This is according to 2021 Kwahu Afram Plains North District Best Beekeeper, Hawa Ibrahim.
The Kwahu Afram Plains North District is in the northern part of the Eastern Region of Ghana and is a remote island mostly accessible by ferry, boat, or canoe, with a poor road network.
Despite economic growth in Ghana, inequality has been increasing in the country and poverty remains prevalent in many rural areas such as those communities in Afram Plains – the people there are suffering from high poverty rates, deprivation, and under-development.
One of the strongest manifestations of the level of deprivation is low levels of education with many youngsters failing to progress beyond primary school, further condemning them to a life of poverty.
"I went to secondary school but when I went to sit my exams I was not allowed to. I had no money to pay the exam fee. I studied hard – but now I have nothing to show for it", Mohammed Mustafa, Bonaso in Kwahu Afram Plains North during an interaction with Bees for development Ghana.
Despite the numerous challenges, there are abundant resources that can be exploited to benefit the people in the area. They have access to rich natural resources, especially honey bees and forests.
You can find many people living on the fringes of Digya National Park who have been forced by poverty to exploit the Park's resources, many of whom engage in honey hunting, which is against the law. This creates conflict with Park officials.
Revenue from honey hunting and small-scale farming is meagre, and communities suffer from chronic poverty, poor housing, and the inability to pay school fees.
Read also: Ghana EXIM Bank Board approves GHS12 million to support beekeeping industry in Ghana
In May 2019, Bees for development Ghana introduced a project to promote sustainable beekeeping to these people living on the fringes of the Park when the honey hunters expressed huge interest in beekeeping but lack knowledge, experience, and means to begin — there is no tradition of using beehives in the area.
The aims of this project were to turn honey hunters into beekeepers and to generate new revenues in order to improve their livelihoods. Women also expressed interest in keeping bees and the honey trade.
Fast forward to 2021, many men and women have taken the beekeeping activities and are producing tonnes of honey and beeswax.
Speaking on the sideline of the 2021 National Farmers' Day, Mr. Giddion Hopeson Zege, Field Officer for Bees for Development Ghana, urged the women in Kwahu Afram Plains to engage in beekeeping to combat poverty and ensure prosperity in their livelihoods.
He added that they have trained about a thousand (1000) people in Beekeeping in Kwahu Afram Plains and that his organisation Bees for development Ghana is in a process of making Kwahu Afram Plains become a honey hub for West Africa – very soon people will hear about it.
Read also: 52 year old father k!lls all his three children, hides their bodies in the fridge
Mr. Hopeson Zege, explained, they are helping their trained beekeepers, who are establishing their honey and beeswax businesses, to access good markets for their products.
He further stated Bees for Development Ghana is in a process of building a HONEY PROCESSING Centre at Donkokrom in Kwahu Afram Plains North, Eastern Region for beekeepers in the area.
Read also: BfD Ghana promotes sustainable beekeeping to alleviate deprivation and poverty
Mr. Zege emphasised that part of their efforts is to develop the beekeeping sector and improve the livelihoods of the poor in rural Ghana, by offering intensive training workshops for people to become self-employed.
He added that one of their objectives is to share and spread beekeeping knowledge across the country to increase honey production and to create more jobs to ensure prosperity for the rural population particularly women and the youth.
Rural women in Beekeeping
Madam Hawa Ibrahim, who was adjudged the Best Beekeeper in the district and a beneficiary of Bees for Development Ghana's project in the Kwahu Afram Plains stated, she was initially skeptical about leaving the traditional way of honey hunting, which was a major source of income.
Upon reflection, however, she decided to go all out to engage herself in the sustainable methods of keeping bees and now she has seen it as a way to come out of poverty and also to provide a bright future for her children. She said she had tried her hands on so many livelihood activities but none can be compared to beekeeping.
Madam Hawa, further expressed, the training she received from BfdG is the source of her success story today. According to her, she learned how to build her own hives, catch swarms, harvest and process honey as well as process beeswax for sale.
Read also: Celebrating Master Beekeepers' and cashew growers and their achievements in Ghana
"Beekeeping has helped me a lot since I started engaging in it. My husband and I are very poor but now I can make money from sales of honey and beeswax to take care of my six children and support my husband. We didn't go to school but I want my children to be well educated", Hawa said.
She thanked BfdG for their kind gesture saying though accessing the area [Afram Palins} is very difficult yet they came all the way to their villages to help them to make money for their families.
Read also: Bees for Development promotes beekeeping among vulnerable groups near Bwindi Mgahinga Conservation Area
She used the opportunity to advise her fellow women in rural areas to also engage in beekeeping to earn a good living in order to support their families.
She said, "There is no work that women cannot do … so don't say I can only do this but I can't do that, so if you decide that you want to do it you can indeed do it and reap the benefit from it."
"I urge my fellow women to also start keeping bees to make money to support their families," Hawa added.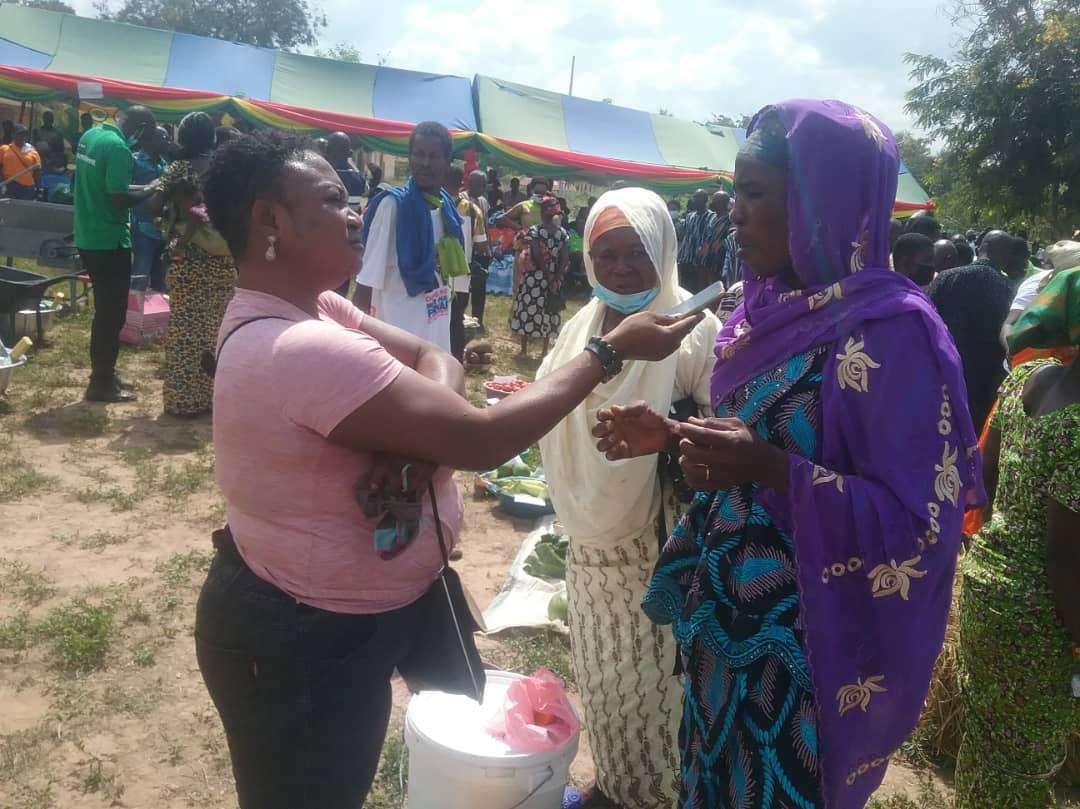 Hawa, who is a beekeeper under the BfD Ghana Project, currently has 200 hives, and 27 colonies and recently she harvested 5 jelly cans in November 2021.
Bees for development Ghana has supported a lot of women like Hawa in Bono East, Bono, Eastern, and Central Regions of Ghana.